Any body need a coffee?? Ooo how I love my morning coffee. And I swear it just tastes that much more delish on a Sunday morning, no? It's after 8am & my
crazy
adorable children are still sleeping! Sweet!! Hubby had to go in early for work yesterday morning. Overtime. Which I bitch about (i love our cozy saturday mornings as a fam) until the paycheck comes in & then I'm all smiles. That man works hard for us. Sigh. I'm lucky....Anyways, we are enjoying us all being together this morning.
**********************
Thanku all for the awesome comments on my post, the other day. I
loved
reading them, & seriously felt so much better about things. Y'all gave me some great stuff to think about, & am wondering if maybe
she
DOES remind me of someone from my past, that I had issues with. Yikes. If that is the case, totally not fair to her. I'll definatley spend some time mediating over that:)
**********************
So, due to my last post, I got confirmation that D does
in fact
read my blog!! When he got home from work on Friday & da boyz were in bed, we were enjoying a cold one, he said "so, what did u mean...when u said
she
has a hubby that loves her...u don't??" I felt my face going deep purple(which so rarely happens) while my brain screamed 'omg, omg, he reads your blog'! I think I giggled nervously & reassured him that's
totally not
what I meant, obviously. He just laughed, cuz he new that I was freakin, & told me that he doesn't read it often, but checks in from time to time to "find out what is going on in my wife's head", lol! He also said he wouldn't read it anymore if I didn't want him to. I assured him to read it when he wants, I was just more comfortable with the idea of not really knowing
if
he read it, then with absolutely knowing that he does. But it's cool...he's cool:) lol!
************************
My family~D, Z, WY & I (Ha! How funny does that sound?!)~ we live in Calgary, Alberta. My family~Mom, Dad, brother, Sis' n law, & neice~ all live back home, in the Maritimes. My bff lives there too... on PEI. She has made a
big
huge change in her life today. A extremely difficult change. And I wish
so badly
that I could be there with her. Seriously, hurting for her. But hurting for her in a good way, because I know that as hard as all of this been(& it has been excruciating at times), that what she is doing
today
will change her life
forever
, for the better. This chick has been amazingly strong over the last couple of years & I am excited for
everything
that life has in store for her. Every woman deserves a friend like this girl.... I love ya babes & I can't wait to TALK to you once you are feeling settled....xoxo
While D has the boys outside, shovelling snow(will it
ever
stop?) I'm heading over to
FTLOB
because,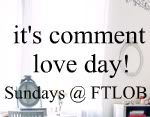 Happy Sunday, peeps! Love & hugs