Happy Sunday, gorgeous!!! It is the perfect day to just hang in at home....
backyard
On Thursday it was +13...my boys were in hoodies & rubber boots playing in the back yard. Today we needs LAYERS to even attempt to shovel our driveway. Ooooo well, January is almost ova, & I know this snow will melt & that the sweet smell of spring is just around the corner. Seriously, I can not wait for my first whiff of these beauties....
Sigh. Even looking at them in a picture gets my summer juices pumping(lol! that almost sounds dirty...hehe). Like always, I have been getting thru the winter by planning our summer. We are certainly hoping to get into BC this year to do some serious camping....
And this summer I'm on misson to find some decent swimming in this crazy landlocked province. It hurts my soul that my boys love the water(as much as their momma does) and there really isn't that many places to take them other then here....
Yup, its a giant man-made puddle!
Actually, my boys really enjoy going here. I find it kinda gross, but whatever. They love it, & when it's hot in the city we always take it:) Just so odd to me that this is what my kids consider the beach. When I was Z's age I was taking my swimming lessons here....
I'm hoping to get back to PEI this summer. All 4 of us, this time(last summer, just Z & I went). But we have to wait & see how the funds work out. A family of 4, to fly during summer, is about $2,000... which is crazy really....I mean we don't even leave the country, how can it possibly be that expensive. But it is. So ya know, I'm just dreaming for now:)
Soooo, I'm going to spend my snowy day at
FTLOB
because it is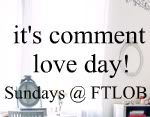 and I loooooove comment love day!! They always have
the
best blogs to read thru. Actually,
FTLOB
has a TON of awesome, new exciting things happening over there. Honestly, If u haven't checked them, u should. Those ladies put so much effort into their site & it's a booming success!! They are dedicated to helping bloggers out. How amazing it that?!
Until next time......xoxo